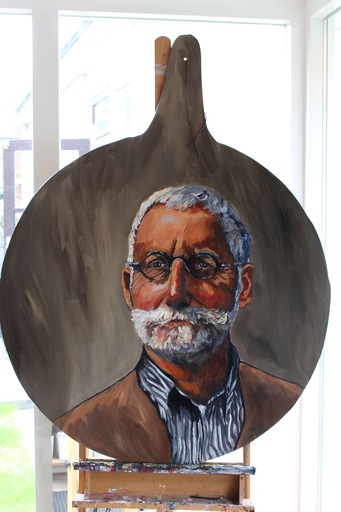 Past
Iris Duchateau (1969 self-taught) educated as professional violinist originally, decided to take a complete different turn in 2008. To choose a different direction seems synonymous to drastic changes, but drastic wouldn't seem apropriate in this context. To explain this, according to Iris, music is very close to painting and the other way around. Her inspiration is mainly found in the world of music.
In her childhood Iris spend her holidays mainly with painting in the wooded Luxembourg. The love for painting, brought her to understand that she also has talent for painting. A year before she decided to change direction, she sold her first painting. The admiration of the people for her work and the confidence in her talent brought her to this choice. Being selected, Iris followed a masterclass at Sam Drukker and Peter Smit.
All the time
From her heart Iris translates the soul of the person, she wants to capture on the canvas. Painting a person is much more for her than just an expression. She wants you to experience the emotion of a person, like a fingerprint, a piece of identity associated with one characteristic person. Iris always translates an expression into identity.
Veerle Witteveen